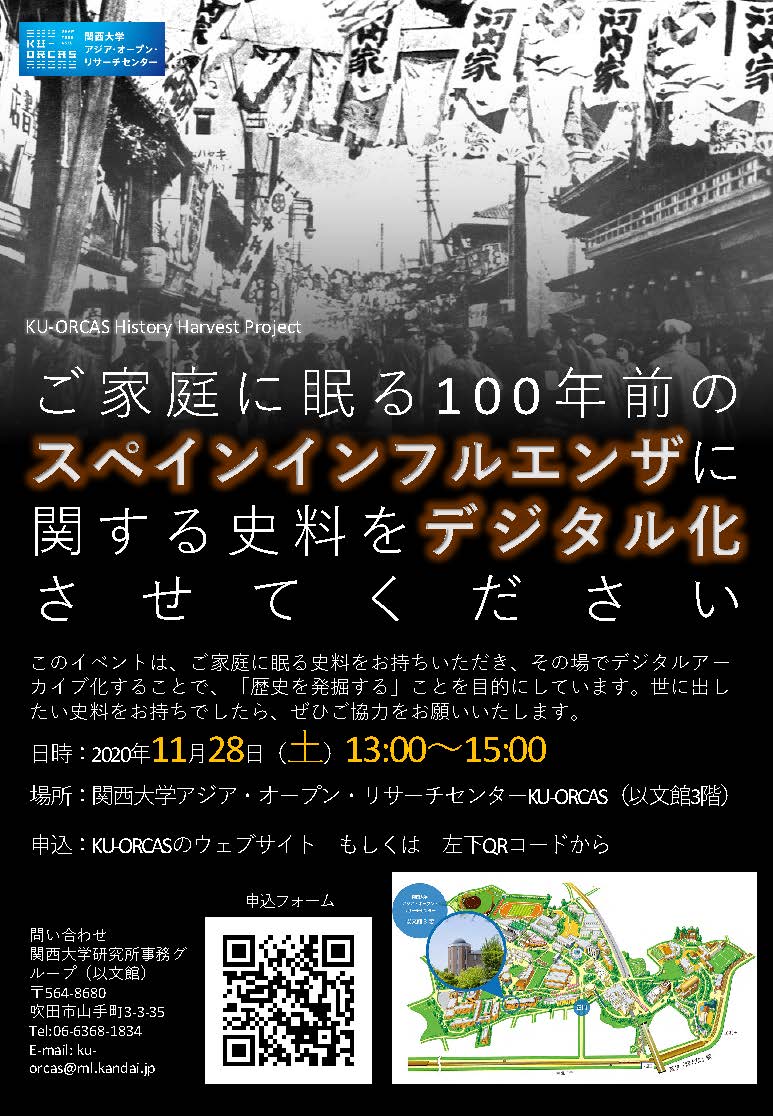 The purpose of this event is to "unearth history" by bringing in historical documents related to the Spanish flu 100 years ago from your home to be digitized and archived on-site.
We will digitize the materials you bring in and ask you for details about the materials' origin before archiving them in digital form.
We would appreciate your cooperation in unearthing new historical materials and advancing historical research!
---
[Date and Time] Saturday, November 28, 2020, 13:00 – 15:00
Venue: Kansai University Asia Open Research Center KU-ORCAS
(Senriyama Campus Ibunkan 3rd Floor: Suita, Osaka)
Admission is free.
To confirm the number of participants, please apply in advance using the application form below.
<Notice>
Please use the following application form to confirm the number of participants.
When releasing materials in the digital archive, we take copyright and other issues into consideration.
Therefore, please understand that we may not be able to meet your request for disclosure.
Even if we do not or cannot make the material public, you can still use it as research material, so please be aware that
We would appreciate your active participation in this event.
---
 [Inquiry]
Kansai University Institute Office Group (Ibunkan)
3-3-35 Yamate-cho, Suita City, 564-8680 Japan
Tel: 06-6368-1834 Fax: 06-6368-0235
E-mail: ku-orcas@ml.kandai.jp