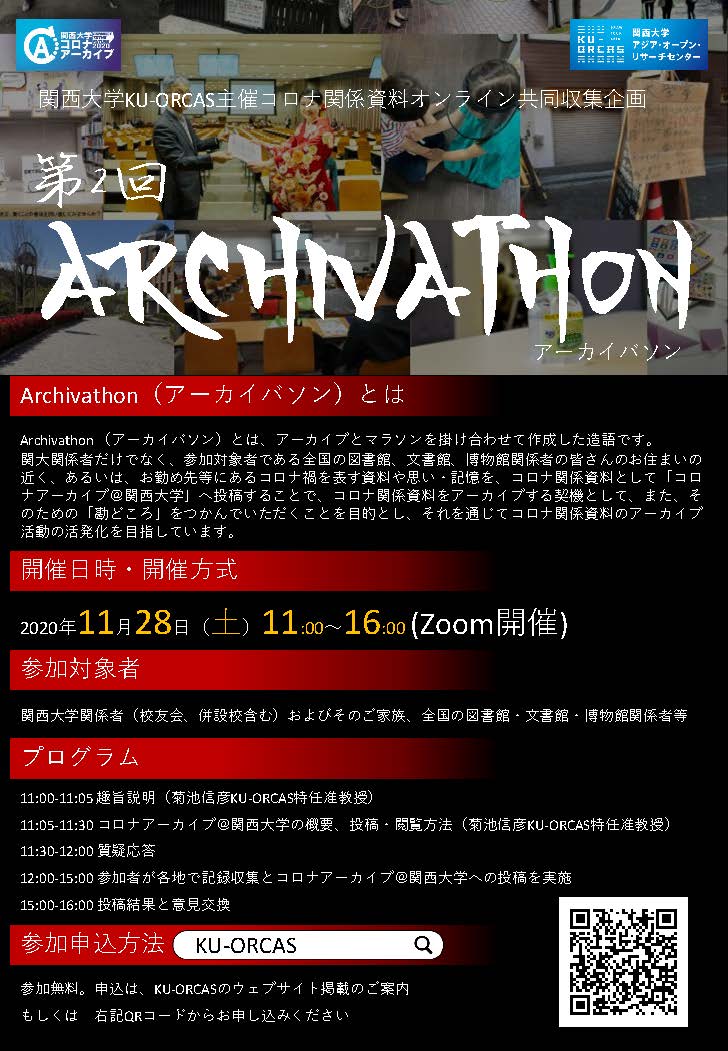 The Archivathon is a combination of the words "archive" and "marathon," and is an online event for the purpose of collecting corona-related materials online in collaboration with participants.
The purpose of this event is to collect materials, thoughts, and memories of the corona hazards from people involved with Kansai University (including alumni associations and affiliated schools) and their families, as well as from libraries, museums, archives, and other related institutions near their residences or where they work, and post them as corona-related materials on the "Corona Archive @ Kansai University." The purpose of this event was to provide an opportunity to archive corona-related materials and to give people a clue about how to do so, with the aim of stimulating archiving activities of corona-related materials.
Although the eligibility for the Corona Archive @ Kansai University had been limited to those affiliated with the university, this event was open to staff members of libraries, museums, and archives, as well as those involved in the digital archives, with the aim of collecting and visualizing corona-related materials across the country.
---
[Date] Saturday, November 28, 2020, 11:00 a.m. – 4:00 p.m.
This event will be held using Zoom. This event will be held via Zoom.
We will send you the URL of the day's Zoom meeting for access.
Participation fee: Free of charge
Eligibility: Kansai University staff, staff of libraries, museums and archives, and others involved in digital archiving
Advance registration is required.
If you would like to attend, please register here.
(URL: https://forms.gle/NmNQnZMrxPSV7YUM8)
[Program]
11:00-11:05 Explanation of the purpose of the program Nobuhiko Kikuchi (KU-ORCAS Associate Professor)
11:05-11:30 Corona Archive @ Kansai University: How to contribute and view the Corona Archive by Nobuhiko Kikuchi, Associate Professor at KU-ORCAS
11:30-12:00 Question and answer session
12:30 – 3:00 p.m. Participants will collect records in various locations and post them to the Corona Archive at Kansai University.
15:00-16:00 Posting results and exchange of ideas
---
[Inquiry]
Kansai University Institute Office Group (Ibunkan)
3-3-35 Yamate-cho, Suita City, 564-8680 Japan
Tel: 06-6368-1834 Fax: 06-6368-0235
E-mail: ku-orcas@ml.kandai.jp