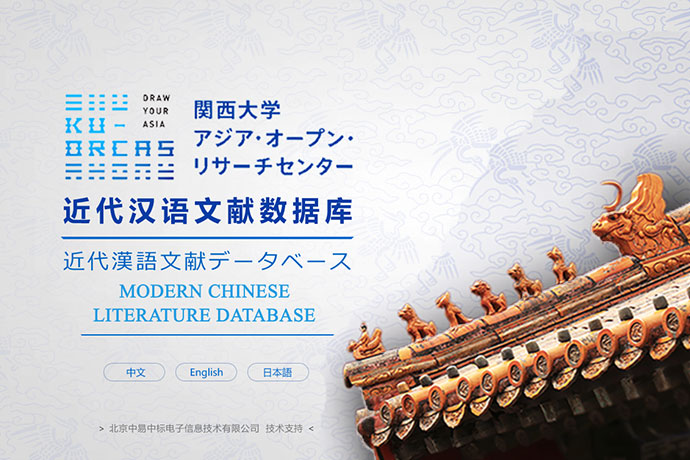 Kansai University Open Research Center for Asian Studies (KU-ORCAS) is making the Modern Chinese Literature Database available to the public through the Kansai University Digital Archive.
The Modern Chinese Literature Database is available to the public through a Grant-in-Aid for Scientific Research (B) from the Japan Society for the Promotion of Science (JSPS) for "Aspects of 19th Century '官話': An Approach from 'Peripheries' (Europe, Ryukyu, Korea, and Japan)" (Principal Investigator: Keiichi Uchida) during the 18-19th academic years of the Heisei period and "Asian Cultural Exchange, Kansai University. This database was newly constructed based on the Corpus of Modern Chinese (formerly known as the Database of Documents in Modern Chinese), which was formerly part of the research results of Kansai University's Center for the Study of Asian Cultures (CSAC).
In this database, you can search and browse about 150 materials written in the modern Chinese language among the personal collection of Keiichi Uchida (Director of the Open Research Center for Asia, Kansai University) by correlating the text data with the images of the materials.
Login is required to use this service. The first time you use this service, select the "Login" button at the top right corner of the search screen, and select "立即注册" to register a new user. After the second time, you can log in with the information you provided during the initial registration.