This workshop has been cancelled as a precautionary measure to prevent the proliferation of the new type of Coronavirus.(2020/02/25)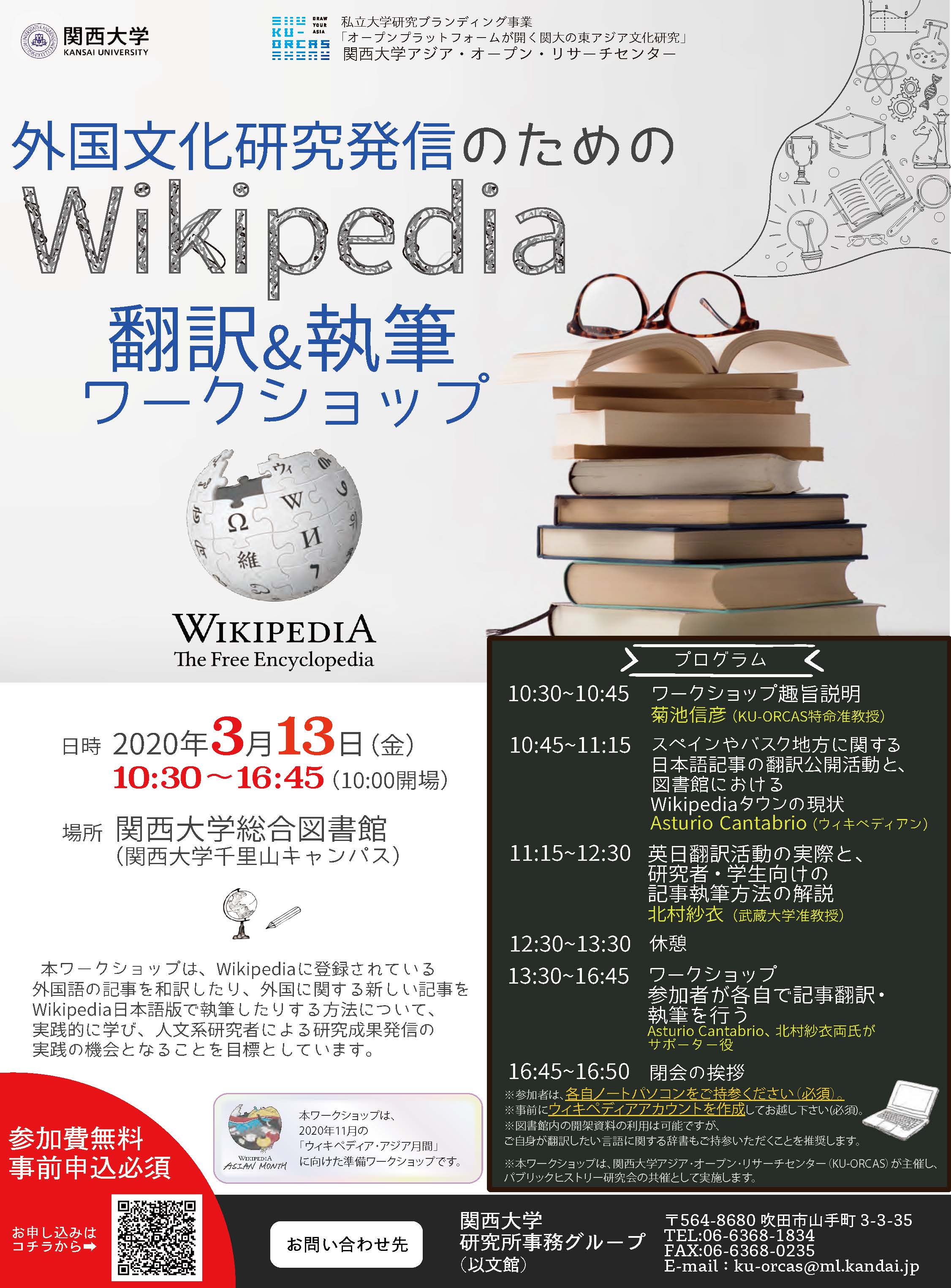 KU-ORCAS will hold a "Workshop on translating and writing Wikipedia articles to promote researches in foreign languages and cultures" on March 13, 2020 at Kansai University Library (Senriyama Campus: Suita city, Osaka prefecture).
This workshop aims to offer researchers from social sciences and humanities a live experience opportunity to communicate their research findings by actually translating existing foreign language Wikipedia articles and authoring new Wikipedia articles in Japanese language. We are looking forward to your active participation.
※This is a preparatory workshop for the forthcoming Wikipedia Asian Month scheduled in November 2020.
---
【Date】13 March 2020(Friday), 10:00~16:45 (Venue opens at 10:00)
【Venue】Kansai University Library (Kansai University Senriyama Campus: Suita city, Osaka prefecture)
※ Participation is free
※ Advance application is necessary
【Program】
10:30〜10:45
Opening address: Nobuhiko Kikuchi (Specially Appointed Associate Professor, KU-ORCAS)
10:45〜11:15
Translating Japanese Wikipedia articles related to Spain and Basque Country, and the current status of Wikipedia town in libraries. By Asturio Cantabrio (Wikipedian)
11:15〜12:30
Current scenario of English – Japanese translation activities and how to write articles for researcher and students. By Sae Kitamura (Associate Professor, Musashi University)
12:30〜13:30
Break time and lunch
13:30〜16:45
Workshop (Participant will translate and write Wikipedia articles) Asturio Cantabrio, Sae Kitamura will provide onsite assistance to the participants.
16:45〜16:50
Closing address
<Points to remember>
※Participants are expected to bring their own laptop (mandatory).
※Please create a Wikipedia account in advance(mandatory).
▶︎Click here to create an account
※Participants may consult resources available in the library. However, you are strongly advised to bring your own dictionaries and other necessary reference materials that you may need while translating and authoring articles.
※This workshop will be hosted by KANSAI UNIVERSITY OPEN RESEARCH CENTER for ASIAN STUDIES (KU-ORCAS) in cooperation with the Society for Public History.
---
【Contact and apply】
Kansai University Research Institute Coordination Division (Office: Ibunkan 3F)
3-3-35 Yamate-cho, Suita-shi, Osaka 564-8680
TEL:06-6368-1834 FAX:06-6368-0235
E-mail: ku-orcas@ml.kandai.jp